Frankenstrike


Vital statistics
Species
Transylian
Homeworld
Anur Transyl
Powers
Lightning blasts
Connect with tech
Enhanced strenght
Enhanced durability
Enhanced intellect
Body Type
Humanoid
Voice
Michael Dorn (Ben 10)
First Appearance
Be Afraid of the Dark
Frankenstrike
is thе DNA sample of a Transylian from Anur Transyl.
Appearance
Ben 10
Frankenstrike resembles a bulky hudkmanoid with green skin. He has bolts on his chest and in his back. He has long black hair and green eyes. He wears black pants with the Omnitrix on his waist. He has two metal towers on his shoulder that conduct electricity. He also has brown metal gauntlets on his wrists.
Ultimate Alien
He looks the same as in Ben 10, only with grey skin and blue-grey towers and gauntlets. The Ultimatrix is on his chest.
Powers
Frankenstrike has enhanced strength and durability. He can shoot lightning from the towers on his shoulder. He also has a very large intellect. The bolts on his back can be used to connect with technology.
Appearances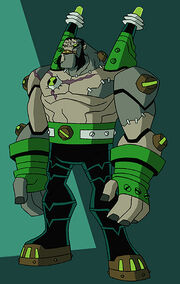 Y: Means that this alien was used by Ben in that episode.
N: Means that this alien was not used by anyone in that episode.
S: Means that this alien was used by someone other than Ben in that episode. (hover over the letter to see by who)
Ad blocker interference detected!
Wikia is a free-to-use site that makes money from advertising. We have a modified experience for viewers using ad blockers

Wikia is not accessible if you've made further modifications. Remove the custom ad blocker rule(s) and the page will load as expected.