Eye Guy
[img][/img]

Vital statistics
Species
Opticoid
Homeworld
Sightra
Powers
Enhanced Strength


Enhanced Durability
Enhanced Agility
Energy Beams
Freeze Beams
Fire Vision
360 Vision

Body Type
Humanoid
Voice
Dee Bradley Baker (Ben 10)


Paul Eiding (Omniverse)

First Appearance
Ben 10 vs. The Negative 10: Part 2
Eyе Guy is the DNA sample of an Opticoid from the planet Sightra..
Appearance
Ben 10
Eye Guy is a tan humanoid covered in green eyes. The eyes cover his torso and arms, but not his face. His face is pointed and is taken up by two large pink ears. He wears black and white striped pants, and the Omnitrix is on his waist.
Ultimate Alien
Looks the same as in Ben 10 only with the Ultimatrix on his chest and the eyes on his chest are gone.
Omniverse
Looks the same as Ben 10, only with eyes on his hands. For teen Ben, all white is now green and the belt is way different .
Powers And Abilities
Eye Guy can see in every direction with his multiple eyes. He can fire freeze beams, energy beams, or fire from his eyes. He can make a large eye on his chest, which produces the strongest beam.
Appearances
Ben 10: Omniverse
Ben 10: Omniverse
Ben 10: Omniverse Arc 3

| 1 | 2 | 3 | 4 | 5 | 6 | 7 | 8 | 9 | 10 |
| --- | --- | --- | --- | --- | --- | --- | --- | --- | --- |
| N | N | N | N | N | N | N | N | Y | Y |
Y: Means that this alien was used by Ben in that episode.
N: Means that this alien was not used by anyone in that episode.
S: Means that this alien was used by someone other than Ben in that episode. (hover over the letter to see by who)
Video Games
Ben 10: Omniverse
Eye Guy is playable on both versions for young Ben. On consoles, he is playable starting in level 2. He has no special abilities.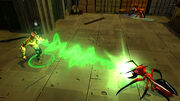 Trivia
Eye Guy is the first alien to be unlocked offscreen.
Eye Guy, tied with Benmummy and Gravattack, is the second least used alien and hasnt been used sice the original series.